Hand Gestures: The Secret Weapon for Powerful Presentations
Jazz hands aren't going to cut it. Hand gestures must be compelling and strategic to make an impact, not a distraction.
Note: This is a part of my Delivery Skills series on the Delivery Core Four (if you missed it read it here).
Today, we're tackling a topic that poor Ricky Bobby just couldn't figure out… what DO you do with your hands?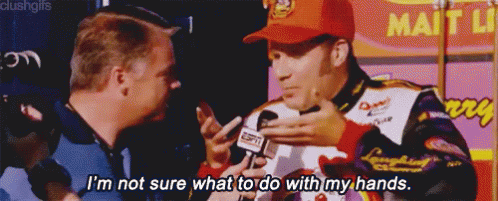 And while it was pretty funny for him to look like a fool, I'm certain that you have a different vision for your next presentation.
It can be a little overwhelming to consider that your have to plan not only amazing, compelling content, you also have to practice your words, how you say them… and think about what your hands are doing while you speak! Yikes!
Hands tend to be used haphazardly in communication. This is an absolute shame because using your hands strategically can help your audience better understand your words, it can build stronger trust and makes your message more memorable.
Today, I'm sharing the 3 fundamentals you must master. Regardless on which side of the spectrum you sit, too much hand movement or none at all? Here's 3 tactics to set yourself up for your hands to really jive………get it?
Mini Training: 3 Fundamentals for Effective Hand Gestures (Scroll up to video).
Before you can focus on what to do with your hands, you must get comfortable having them in the propoer position to use. I've found that these are the 3 things that contribute to successfully (and consistently) using your hands during presentations:
Posture. If your shoulders are slumped forward, your hands will not be in a position to use because your elbows will be too far forward to comfortably bend them. No T-rex arms. Put those shoulders back so that your elbows are to your sides, this will bring your hands in front of you.
Home Base. Find a natural position (eventually a few of them) to be your "resting" place so that between making gestures you'll have a "home base" to bring your hands back to (see video for a few examples).
Beach Ball Zone. When I first started teaching others stage presence and message delivery, I noticed immediately that people lacked confidence with their hands because they didn't know physically where to hold them! In case you fall in this camp, let me help you. Imagine you're holding an inflatable beach ball. Within that beachball is where you should make your hand gestures. I call this the beach ball zone. Anything within that circular area is where your hands should live for most of your delivery.
OK. Now it's time to PRACTICE!
Stand up (that is important) and work through the tips from the video so you can start getting comfortable with your hands. Just start talking outloud (about anything) and try movement using your hands in the beach ball zone.
Now that your hands are in prime position for gestures, it's time to tackle WHAT DO I DO WITH THEM? Check out my 7 go-to gestures here!